Horizontal Knit Welt Stitch
Horizontal Knit Welt Stitch  How-to Tutorial for Beginners
Horizontal Knit Welt Stitch by Janice Jones |Published 10-28-2023
Here's another popular rib stitch that is stretchy but stretchy in a vertical way as opposed to traditional ribs that stretch horizontally. So, if you thought that this pattern looks like a rib stitch, you would be correct. Also known as The Reverse Ridge Stitch Knitting Pattern, the term Welt, according to Knit Picks, is a raised tube of material that is worked into a knitted piece.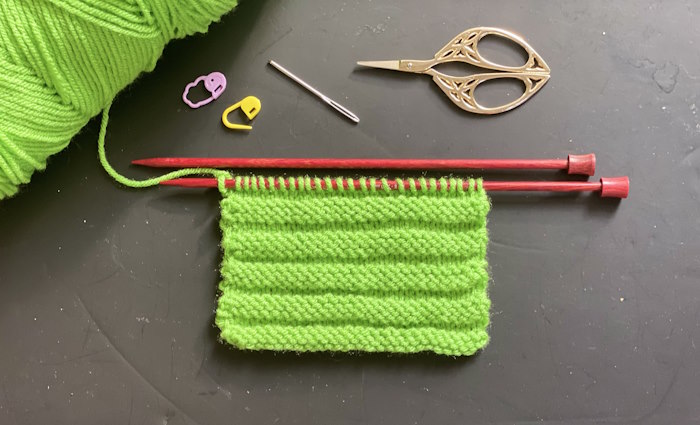 Horizontal Knit Welt Stitch Pattern Tutorial
So, just to be clear, I'm not talking about the kind of welt you might find on your skin!
But when you think about it, the image of a welt forming on your skin could be where the name originated.
The knit welt stitch pattern consists of horizontal ribs created with knit and purl stitches. It seems thicker than it is due to the amount of texture that you can create with this simple repeat pattern.
This is a reversible pattern, meaning that both sides of your work, the right and wrong sides, are identical. It is also considered an excellent knitting stitch for beginners and is categorized as a knit and purl stitch.
The Right Side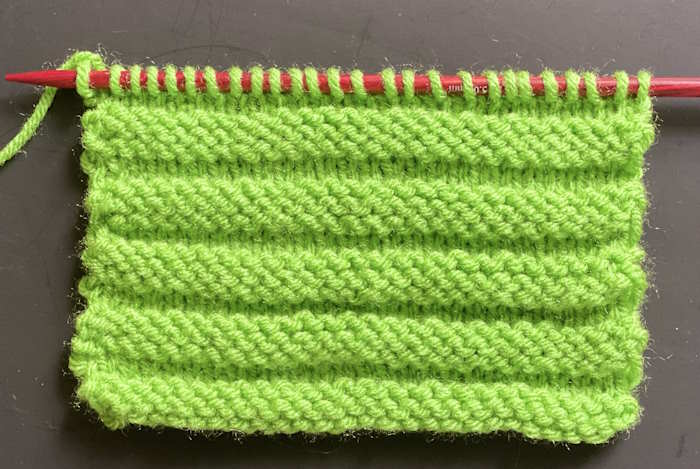 The Wrong Side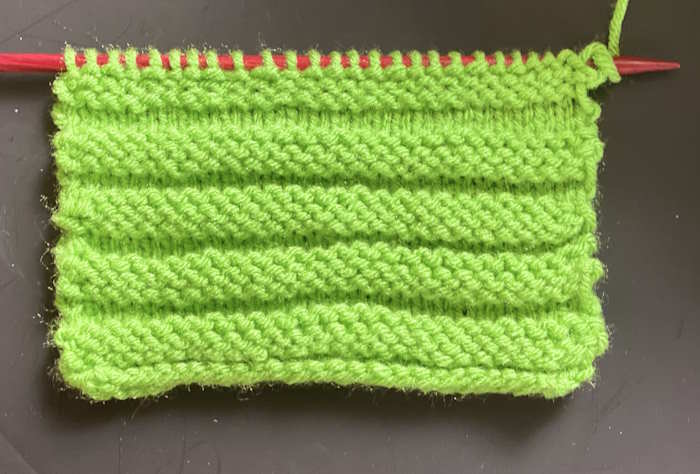 What You Will Learn 
In this tutorial, I am going to explain the types of skills you will need to create this pattern, needed supplies, provide the directions, and include possible projects you might consider.  Lastly, I'll provide a knitting chart that you can use if you decide to practice this stitch pattern. 
Skill Level

This is a beginner-friendly stitch pattern that novice knitters should be able to master quickly.
Skills Needed:
Cast on
Bind Off
Knit
Purl
Weave in Ends 
Understanding Abbreviations
Reading Knit Charts
Supplies Needed:
For this stitch tutorial, use whatever yarn you have on hand and the corresponding knitting needles.
For the tutorial, I used Red Heart Super Saver Yarn, a worsted-weight acrylic yarn
Number 8 (5.0 mm) knitting needles
Scissors
Yarn needle for weaving in ends
One crochet type stitch marker for identifying the right side of the work (optional)
Stitch and Row Repeats
It is very beginner-friendly because all you need to know is how to make purl and knit stitches. It's also a 6-row repeat, which is easy to memorize. This pattern is also very similar to my purl ridge knit pattern tutorial. This link takes you to my free dishcloth pattern.
What can you make with the Horizontal Welt Knit Stitch?
This knit pattern works well for blankets and scarves. Designers have also used this stitch to create hats.  I personally think it would be very easy to knit some fingerless gloves without the need for too much math and measuring.
Abbreviations
CO: Cast on
st: Stitch
P: Purl
K: Knit
RS: Right side of the work
BO: Bind off
WS: Wrong side of the work
Notes About the Horizontal Knit Welt Stitch (AKA The Reverse Ridge Stitch Knitting Pattern)
For a more professional, balanced look, bind off after row 5.
If you are making something such as a blanket or scarf, you might want to consider adding a border.  If you also crochet, a single crochet border might make a nice thin border or if you prefer, add a picot edge for a more decorative touch.
How to Make the Horizontal Welt Stitch Pattern
Cast On any number of stitches.
Rows 1: (RS) K
Row 2: (WS) P
Row 3: K
Row 4: K
Row 5: P
Row 6: Knit
Repeat these six rows until you reach your desired length. Bind off and weave in ends.
View this Knit Stitch on a Knitting Chart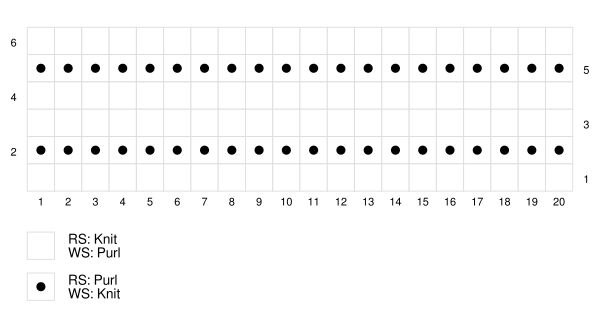 This beginner-level stitch doesn't require a knitting chart, but if you learn how to use one now, it will be much easier when you attach more complicated stitch patterns.
This is a very simple chart.  For more information on knitting charts, check out the knit chart tutorial.
The Horizontal Welt Knit Stitch:  Pin for Future Reference